Each Sunday we have a Eucharistic Service at 10:30 am and our Junior Church meets at the same time. On the first Sunday of the month we have a family service.
For details of all our services and events taking place, please see our Calendar Page
Follow the links for information on Baptisms (Christenings), Weddings and Funerals
---
Good to know
At our Sunday service someone will be at the back of church to welcome you; let us know if you are new or visiting for the first time. As you come in to church you may be given a hymn book, service booklet and a pew sheet, which gives information about the service and other activities in church during the week. We have large-print copies of the service booklet, and a sound system that has a hearing loop.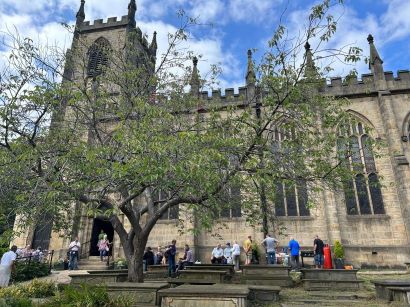 If you have young children, we have a creche on the north side of the church. If your child is aged 4 or upwards, we have a Junior Church within the community room at the back of church, please do speak to one of our welcome team members and they will show you the way. They will be brought back to church about halfway through the service.
If you want to give a one-off donation during the collection then Gift Aid envelopes are available. You can also make a donation online, using our secure donations page.
The bread and the wine for communion is shared at the altar rail. If you are unable to come up to the altar rail, please let the welcomers know, so that the communion can be brought to you in the pew. If would prefer to receive a blessing, please keep your arms to your side.Gluten-free wafers are available.
There is a toilet, with baby-changing facilities, at the back of church.
We meet for tea or coffee in the community room after the service; please do join us.